A Mother's Educational Course for Latter-day Saints

Music Appreciation for 2009
"Teach your children to love the hymns. Sing them on the Sabbath, in home evening, during scripture study, at prayer time. Sing as you work, as you play, and as you travel together. Sing hymns as lullabies to build faith and testimony in your young ones."

-- "First Presidency Preface," Hymns, 1985, x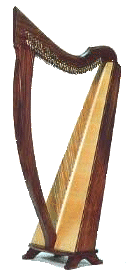 Music Appreciation Recommended Resources for 2009
Optional Recommended Resources
Our Latter-day Hymns: The Stories and the Messages

by Karen Lynn Davidson

The LDS Family Hymnbook

(Illustrated Edition Copyright 2008)

A Children's Songbook Companion

by Pat Graham, Mary Gourley, Trudy Shipp and Linda Stewart
Music Appreciation Overview for 2009
This year we will be listening to hymns and primary songs. Try to learn one hymn and one primary song each month. During the year listen to a variety of recordings if possible. You can get the basic cds for both the hymns and primary songs at Church Distribution. But also look for arrangements of the hymns by different artists. If you want to learn the hymns or primary songs in Spanish... the resources for the Spanish editions are available at Church Distribution also.
Each month listen to the recording of your selected hymn and primary song.

You can learn to sing and/or play them on an instrument of your choice.

Try to memorize the words.

Read about the background of the hymn and primary song if possible.

Read any scripture references that go along with the selection.

Research further information about the composer/writer.

Use the words of the hymns and songs as copy work and keep them in a notebook.

Write down any thoughts and impressions you get from your study.

Share your research with the email group.
Make sure you visit lds.org and use the Interactive Church Music Player.

Extra Resources for Further Enjoyment
Cds of different hymn arrangements:
Cds by the Mormon Tabernacle Choir
The Hymns Collection by Paul Cardall
Cds by Janice Kapp Perry
Reverence by InsideOut (and Primary Colors & Sharing Time)
Hims II by Voice Mail
Hymns without Words by Jon Schmidt
Cds by David Tolk
Cds by Michael Dowdle
The Light Divine by Jenny Oaks Baker

Books to read biographies of different hymn writers:
Mr. Pipes and the British Hymn Makers

by Douglas Bond

Great Christian Hymn Writers

by Betty Carlson and Jane Stuart Smith

Her Heart Can See

(a biography of Fanny Crosby)

Stories Behind the Hymns that Inspire America

by Ace Collins

Stories Behind the Best-Loved Songs of Christmas

by Ace Collins


Copyright © 2004 - 2009 Truelight Academy. All rights reserved.
Email: webmaster@truelightacademy.com
http://www.truelightacademy.com