Beacon Book of the Month
November/December 2002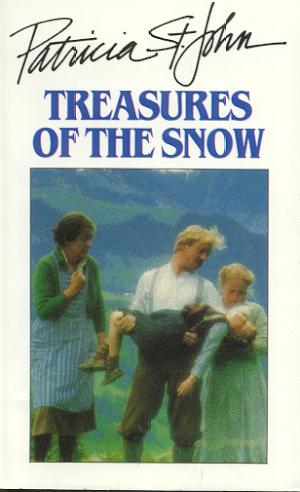 Treasures of the Snow
by Patricia St. John
Reviewed by Katrina Lybbert
~~~~~~~~~~~~~~~~~~~~~~~~~~~~~~~~~~~~~~~~~~~~~~~~~~~~~~~~~~~~~
(Recommended for ages 8 and up.)
Summary:
Treasures of the Snow by Patricia St. John is set in the beautiful Swiss Alps. The author spent some time as a child in Switzerland and her descriptions are true to life. It is a story of love, hate, repentance and forgiveness. Annette does not want to forgive Lucien. What he did was unforgivable! Lucien caused an accident that crippled Dani, Annette's younger brother. Lucien is sorry, but Annette will not listen. She sets out to hurt him as often as she can. When Lucien comes to Annette's rescue, her heart begins to soften. The story is a journey of healing, a new faith in God, and a lesson in charity.

My thoughts:
I read this story aloud to my children at bedtime over a few weeks. At the end of each chapter we all wished we could continue and read more. It was hard to stop and wait till the next night, but we were glad we did. There was excitement each night as the time came to read the story again. We also happened to be reading Heidi by Johanna Spyri as part of our school time read aloud, the same weeks we read Treasures of the Snow. If you like one of the these books, you will like the other. My children sometimes mixed up parts of one book with another, so I would recommend reading them one after the other, rather than at the same time. Heidi is set in a German area of Switzerland while Treasures of the Snow is in a French area. We found it interesting to see the differences and similarities between the two. Treasures of the Snow is a very uplifting book. My children and I learned many life lessons from the reading of it. This book is a treasure!



Learn some information about Switzerland!
~~~~~~~~~~~~~~~~~~~~~~~~~~~~~~~~~~~~~~~~~~~~~~~~~~~~~~~~~~~~~
Visit the Beacon Book Archives
Copyright © 2001 - 2004 Truelight Academy. All rights reserved.
Email: webmaster@truelightacademy.com
http://www.truelightacademy.com