Beacon Book of the Month
October 2001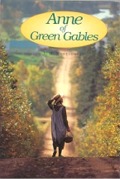 Anne of Green Gables
by L. M. Montgomery
Reviewed by Katrina Lybbert
~~~~~~~~~~~~~~~~~~~~~~~~~~~~~~~~~~~~~~~~~~~~~~~~~~~~~~~~~~~~~
~Recommended for Ages 10 and up~
(Younger children may enjoy it as a read aloud.)
Summary:
Matthew and Marilla Cuthbert decide to adopt an orphan boy to help with the chores on their farm. To their surprise, it is an orphan girl waiting at the train station and not a boy at all! Her name is Anne Shirley, a talkative redhead with quite an imagination. Marilla wants to send her back, but Anne quickly wins the hearts of both Marilla and Matthew(who loved her from the start), and they decide she can stay at Green Gables. Anne does have a habit of getting into difficult situations making the reading of this book one adventure after another. Anne will capture your heart!

My thoughts:
Anne of Green Gables has brightened my life. There is something so special about this orphan girl that I fall in love with her each time I read the book. She has to endure many hardships but she keeps a cheerful outlook on life through her imagination, and finds joy in the simple beauty around her. I can tell that the author, L.M. Montgomery, loved nature. It is evident in her writing. I think that she (& Anne) would really appreciate a Charlotte Mason education! The descriptions of Prince Edward Island are delightful. I will never look at a pond of water in the same way again! Having recently been to PEI myself, I have to say that it is a most beautiful province indeed.
"Marilla, isn't it nice to think that tomorrow is a new day with no mistakes in it yet?" This is my favourite quote from the book. Anne made plenty of mistakes but she learned from them. I took this quote to heart. When I am having a bad day, or I have made a mistake, I remember this quote and it gives me hope. We can have a fresh start everyday.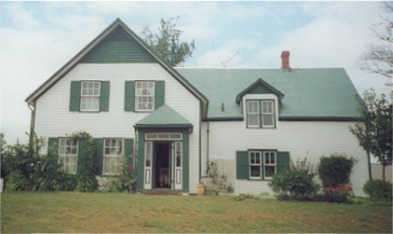 Green Gables House, Prince Edward Island National Park
I took the above picture while on our trip in the maritime provinces this summer. It was a dream come true to be able to visit Prince Edward Island and see all the places that influenced the writing of Anne of Green Gables. The Green Gables House is located in Prince Edward Island National Park. While visiting the house we were also able to take a walk through the "Haunted Woods" and stroll down "Lover's Lane". It is very beautiful and peaceful there, you can almost hear Anne's laughter echoing through the trees. I hope to be able to return there someday.




Read Anne of Green Gables online!
Learn more about Anne of Green Gables and L.M.Montgomery.
~~~~~~~~~~~~~~~~~~~~~~~~~~~~~~~~~~~~~~~~~~~~~~~~~~~~~~~~~~~~~
Visit the Beacon Book Archives
Copyright © 2001 Truelight Academy. All rights reserved.
Email:webmaster@truelightacademy.com
http://www.truelightacademy.com