Beacon Book of the Month
May/June 2002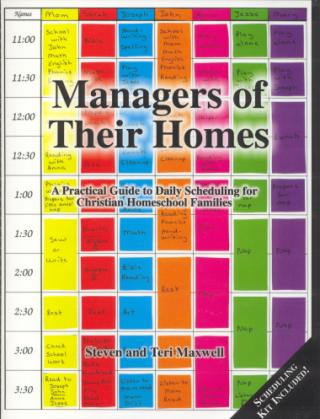 Managers of Their Homes
by Steven and Teri Maxwell
~~~~~~~~~~~~~~~~~~~~~~~~~~~~~~~~~~~~~~~~~~~~~~~~~~~~~~~~~~~~~
Reviewed by Katrina Lybbert
Summary:
Have you ever wondered how to "get it all done"? Managers of Their Homes by Steven and Teri Maxwell is a step-by-step guide to creating a workable schedule for busy homeschool families. Many helpful suggestions can be found in this comprehensive book. You will learn what to schedule and how to put it all together for every family member, from baby to father. You can find ways to accomplish all you need to do and the scheduling tips in this book will work with any homeschool method. Some of the chapters are Scheduling Children's Days, Scheduling School, Scheduling and Babies, Scheduling Chores, Scheduling in the Kitchen, Scheduling for Priorities, Planning the School Year, Scheduling Summer, and more... You will also find sample schedules from a variety of homeschool families in the appendix. Highly recommended!

My thoughts:
Until I read this book, my scheduling attempts were hit and miss. Then I read and pondered the ideas found in this book and many things became clear to me. I had been going about scheduling the wrong way. While I had written up a schedule that seemed good, I was unable to accomplish it because I had not prepared ahead to do so. Putting together a schedule takes a lot of planning and prayers, and Managers of Their Homes clearly describes all the steps needed to do this.
I also gained some insight while reading this book that I needed to do even more than just put together the schedule. I needed to create detailed lesson plans in advance for each of the school subjects I teach my children in our homeschool. Before, I had made the plans the night before or even the day of, but now I write the lesson plans down on planning sheets for 4 weeks at a time. Then we take a week off so I can plan for the next 4 weeks. With all these plans in place we are able to follow our schedule because we know exactly what to do and when. Of course there will always be some interruptions and the Maxwell's share ways to plan for them and deal with them. I also allow for flexibility and some days we may have to forget all about the schedule, but I know that we certainly accomplish more than if we didn't have a schedule at all.
I am very thankful to the Maxwell's for sharing their experience and advice. It has helped our family very much. For more information on how we plan and schedule, see my scheduling page that is part of the Truelight Academy Home Education Guide.




Visit the web site for this wonderful book!
~~~~~~~~~~~~~~~~~~~~~~~~~~~~~~~~~~~~~~~~~~~~~~~~~~~~~~~~~~~~~
Visit the Beacon Book Archives
Copyright © 2001, 2002 Truelight Academy. All rights reserved.
Email: webmaster@truelightacademy.com
http://www.truelightacademy.com