Beacon Book of the Month
March/April 2002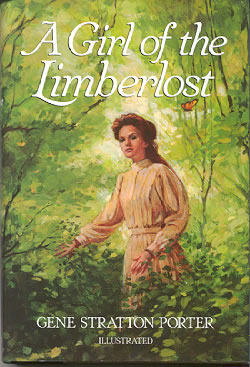 A Girl of the Limberlost
by Gene Stratton Porter
Reviewed by Katrina Lybbert
~~~~~~~~~~~~~~~~~~~~~~~~~~~~~~~~~~~~~~~~~~~~~~~~~~~~~~~~~~~~~
~Recommended for ages 13 +~
Summary:
A Girl of the Limberlost by Gene Stratton Porter is set in Indiana's Limberlost swamp. Elnora Comstock is determined to go to high school. As Elnora's father died when she was a young child, she and her mother have very little money to get by on. High school is going to cost money and Elnora must find a way to pay for her books and clothing. A most opportune chance to earn money occurs when Elnora meets the Bird Woman. The Limberlost swamp contains the treasures Elnora must find for her, treasures of insect life. The story also includes the discovery of music as Elnora learns to play a violin. The second half of the book includes a romance that is sure to touch your heart!

My thoughts:
I first read this book in May of 1996. I will share some of my thoughts that I included in my journal at the time:
A most uplifting book. I could hardly put it down. Beautifully written with some of life's most important lessons. I think the descriptions and love of nature found in the book really show the wonder of the Lord's creations. Many of life's lessons are learned by Elnora & others and they can give insight into our own lives. What touched me was how we should never take our children for granted. Do things with them, show interest in what they enjoy and get to know them. Children are a very precious gift.
Here is one of my favourite quotes from the book, pg. 51, "And remember this. What you are lies with you. If you are lazy, and accept your lot, you may live in it. If you are willing to work , you can write your name anywhere you choose, among the only ones who live past the grave in this world, the people who write books that help, make exquisite music, carve statues, paint pictures, and work for others."
Read A Girl of the Limberlost online!
~~~~~~~~~~~~~~~~~~~~~~~~~~~~~~~~~~~~~~~~~~~~~~~~~~~~~~~~~~~~~
Visit the Beacon Book Archives
Copyright © 2001, 2002 Truelight Academy. All rights reserved.
Email: webmaster@truelightacademy.com
http://www.truelightacademy.com