Beacon Book of the Month
July/August 2002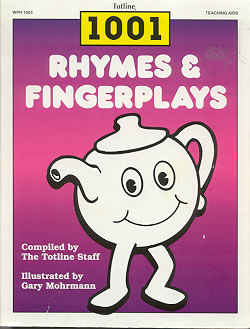 1001 Rhymes & Fingerplays
Compiled by The Totline Staff
Reviewed by Katrina Lybbert
~~~~~~~~~~~~~~~~~~~~~~~~~~~~~~~~~~~~~~~~~~~~~~~~~~~~~~~~~~~~~
(Recommended for birth to age 6)
Summary:
1001 Rhymes & Fingerplays is a wonderful resource for parents and teachers of preschool aged children. There are rhymes for almost every subject you would wish to share with your child. The rhymes are grouped into the following categories: Myself, My School, My Community, Seasons, Animals, Plants & Foods, Weather, Earth & Sky, Holidays, Specials Days, and Special People. The illustrations are adorable! When you need a rhyme to add to your child's learning experiences, this book will fill that need!

My thoughts:
I love this book! I have used it for quite a few years now, with my preschool aged children. We love to choose rhymes to memorize for Christmas, Easter, Valentine's Day, and other holidays. We write out the rhyme we wish to learn and post it where all can see it often. We also use this book for our unit studies by choosing rhymes that match the topic we are studying. For example, there are many rhymes about different occupations, and it is a lot of fun to recite them as we learn about jobs people do. Some of our favourite rhymes are about the different seasons of the year.
This book has also been a fabulous resource for my Letter of the Week Preschool Curriculum. There are so many rhymes we can always find one to go along with our weekly themes. Reciting these rhymes helps to emphasize the sound of the letter we are studying.
This book has been an inspiration to me. I am now writing my own original rhymes in a similar style. I hope you will find this book as useful as I have. Enjoy!



One of the editors of this book, Jean Warren, has her own preschool web site.
Visit: Preschool Express by Jean Warren
~~~~~~~~~~~~~~~~~~~~~~~~~~~~~~~~~~~~~~~~~~~~~~~~~~~~~~~~~~~~~
Visit the Beacon Book Archives
Copyright © 2001, 2002 Truelight Academy. All rights reserved.
Email: webmaster@truelightacademy.com
http://www.truelightacademy.com